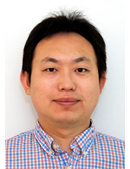 张燕飞,博士,中国科学院天津工业生物技术研究所研究员,博士生导师。
主讲课程
研究生:生物化学与分子生物学, 蛋白质工程, 合成生物学,代谢工程
科研领域及方向
[1] 酶与蛋白质工程
[2] 合成生物学
[3] 生物基材料
[4] 代谢工程
科研项目情况
[1] 国家重点研发计划项目,2020-2025
[2] 天津市合成生物技术创新能力提升行动项目,2020-2023
主要学术成果
先后发表各类科研论文26篇,授权发明专利1项。发表的主要学术论文有:
1) Zhang Y., Lane, S., Chen, J.-M., Hammer, S.K., Luttinger, J., Yang, L., Jin, Y.-S., and Avalos, J.L. (2019) Xylose utilization stimulates mitochondrial production of isobutanol and 2-methyl-1-butanol in Saccharomyces cerevisiae. Biotechnology for Biofuels. 12(1):223.
2) Zhang Y., Hammer S.K., Carrasco-Lopez C., Garcia Echauri S.A., and Avalos J.L. (2020) Genetically encoded biosensors for branched-chain amino acid metabolism to monitor mitochondrial and cytosolic production of isobutanol and isopentanol in yeast. (under review). doi: https://doi.org/10.1101/2020.03.08.982801
3) Sarah K.H., Zhang Y., and Avalos J.L. (2020) Mitochondrial compartmentalization confers specificity to the 2-ketoacid recursive pathway: increasing isopentanol production in Saccharomyces cerevisiae. ACS Synth. Biol. 2020, 9, 3, 546-555.
4) Álvarez M.S., Zhang Y.. (2019) Sketching neoteric solvents for boosting drugs bioavailability. Journal of Controlled Release. 311-312: 225-232
5) Lane S., Zhang Y., Yun E.J., Ziolkowski L., Zhang G., Jin Y.-S., and Avalos J.L. (2019) Xylose assimilation enhances production of isobutanol in engineered Saccharomyces cerevisiae. Biotechnology and Bioengineering. 117:372–381. DOI: 10.1002/bit.27202
6) Zhao E.M., Zhang Y., Mehl J., Park H., Lalwani M.A., Toettcher J.E., Avalos J.L. (2018) Optogenetic regulation of engineered cellular metabolism for microbial chemical production. Nature, 555: 683-687
7) Zhang Y, Avalos J.L. (2017) Traditional and novel tools to probe the mitochondrial metabolism in health and disease. WIREs Syst Biol Med. doi: 10.1002/wsbm.1373
8) Zhang Y., Qadri A. and Weiner J.H. (2015) The quinone-binding site of Acidithiobacillus ferrooxidans sulfide:quinone oxidoreductase controls both sulfide oxidation and quinone reduction. Biochemistry and Cell Biology, 10.1139/bcb-2015-0097
9) Zhang Y., and Weiner J.H. (2014) Characterization of the kinetics and electron paramagnetic resonance spectroscopic properties of Acidithiobacillus ferrooxidans Sulfide:Quinone Oxidoreductase (SQR). Archives of Biochemistry and Biophysics 564:110–119
10) Zhang Y., and Weiner J.H. (2014) A simple semi-quantitative in vivo method using H2S detection to monitor sulfide metabolizing enzymes. BioTechniques 57:208-210.
11) Zhang, Y., Yang, Y., Liu, J., and Qiu, G. (2013) Isolation and Characterization of Acidithiobacillus ferrooxidans Strain QXS-1 Capable of unusual Ferrous Iron and Sulfur Utilization. Hydrometallurgy. 136:51-57
12) Zhang, Y., Peng, A., Yang, Y., Liu, J., and Qiu, G. (2013) Isolation, characterization of Acidiphilium sp. DX1-1 and ore bioleaching by this acidophilic mixotrophic organism. Trans Nonferrous Met Soc. China. 23:1774-1782
13) Cherney, M.M., Zhang, Y., James, M.J. and Weiner, J.H. (2012) Structure-activity characterization of sulfide:quinone oxidoreductase variants. Journal of Structural Biology, 178: 319-328.
14) Cherney M.M.*, Zhang Y.*, Solomonson M., Weiner J.H., James M.N. (2010) Crystal structure of sulfide:quinone oxidoreductase from Acidithiobacillus ferrooxidans: insights into sulfidotrophic respiration and detoxification. J Mol Biol 398:292-305
(* Cherney M.M. and Zhang Y. contributed equally to this study.)
15) Zhang Y., Cherney M.M., Solomonson M., Liu J., James .MN., Weiner J.H. (2009) Preliminary X-ray crystallographic analysis of sulfide:quinone oxidoreductase from Acidithiobacillus ferrooxidans. Acta Crystallogr Sect F Struct Biol Cryst Commun 65:839-842
16) Zheng C., Zhang Y., Liu, Y.Wu, A.Xia, L.Zeng, J.Liu, J.Qiu, G. (2009) Characterization and reconstitute of a [Fe4S4] adenosine 5'-phosphosulfate reductase from Acidithiobacillus ferrooxidans. Curr Microbiol 58:586-592
17) Wu A., Zhang Y., Zheng C., Dai Y., Liu Y., Zeng J. (2008) Purification and enzymatic characteristics of cysteine desulfurase, IscS, in Acidithiobacillus ferrooxidans ATCC 23270. Trans. Nonferrous Met. Soc. China 18:1450-1457
18) Zeng J.*, Zhang Y.*, Liu Y., Zhang X., Xia L., Liu J. and Qiu G. (2007) Expression, purification and characterization of a cysteine desulfurase, IscS, from Acidithiobacillus ferrooxidans. Biotechnology Letters 29(12):1983-90
(*Yanfei Zhang and Jia Zeng contributed equally to this work)
19) Zhang Y., Yang Y., Liu J. and Qiu G. (2007) Isolation, Characterization and Phylogenetic Analysis of Acidiphilium-like Bacteria from Acid Mine Drainage. Advanced Materials Research Vols. 20-21:473-476
20) Zhang Y., Zhang X., Wang Y., Yang Y., Liu J. (2007) Isolation, Characterization and Phylogenetic Analysis of an Acidophilic Heterotrophic Bacterium, Progress in Modern Biomedicine 7(11):1600~1604 (In Chinese)
21) Zhang Y., He H., Shi W., Wan M., Yang Y. (2006) Freeze-drying Cryoprotectant Optimized by Orthogonal Experiment for Acidithiobacillus ferrooxidans, Progress in Modern Biomedicine 6(5):5~7 (In Chinese)
22) Yang Y.,Zhang Y.,He H., Wan M.,Shi W., Qiu G. (2006) Optimization of frozen storage cryoprotectant for Acidithiobacillus ferrooxidans by orthogonal experiment, J. Cent. South Univ. (Science and Technology) 37(5):891~895 (In Chinese)
23) Yang Y., Zhang Y., Huang J., Jiang D., Chen Y., Qiu G. (2006) Preservation of Acidithiobacillus ferrooxidans, J. Cent. South Univ. (Science and Technology) 37(3):472~475 (In Chinese)
授权发明专利主要有:
1) 嗜酸氧化亚铁硫杆菌冷冻保藏保护剂 (ZL 200610032334.2)
联系方式
办公地点:天津市空港经济区西七道32号 中国科学院天津工业生物技术研究所
邮政编码:300308
办公电话:022-24828724
传 真:
Email: zhangyf@tib.cas.cn